Have you played your second round championship match? Racquets will be tossed tomorrow, July 2nd to decide the outcome of unplayed matches.
The junior programme will be in full swing from Monday, July 4th. The junior tennis leaders, Laoise Geraghty and Ciaran McNamara will be running the programme for July. First up is 'Fun & Games' for the 5 to 9 year old age group from 10:30am to 12, €1 charge to cover a drink and treat. See the Junior Programme here.
We will also have the first of our Summer Camps in July from 18th to the 22nd, 2 to 5pm each day.
Saturday Pizza tournament will continue running from 5 to 7pm for over 10's.
We would like to thank all the parents who helped out and ran the Friday afternoon tournament for the under 10's. This tournament will move to a new time of 10:30 on Friday mornings and will be run by the tennis leaders.
Our second BBQ night will take place on Friday, July 8th at 7pm. Tennis followed by barbecued burgers with all the trimmings. Please add your name to the list in the clubhouse.
One of the highlights in the social calendar is Captains Day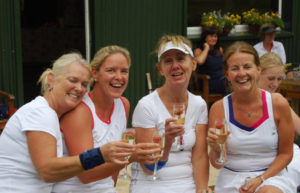 and this takes place on Saturday, July 23rd with tennis at 2pm followed by a meal and music. Tickets will go on sale for this event on Wednesday, July 13th from 6:30pm and will be sold on a first come, first served basis. Two types of tickets are available to purchase:
Tennis and Meal €25

Meal only €20.